New Patients at Ortiz Chiropractic
When you enter
Ortiz Chiropractic
, know you are welcome. Our staff will assist you with the new patient paperwork and ensure you're comfortable. Once your health information has been reviewed by the doctor, you'll have the opportunity to tour our state-of-the-art healing facility.
The Initial Consultation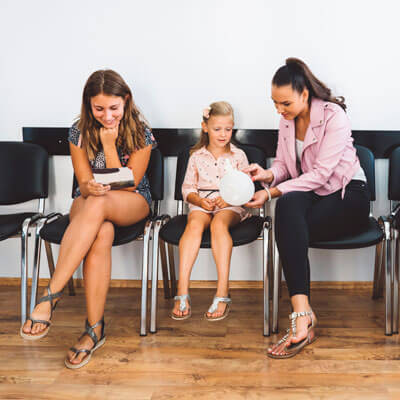 When you're finished, Dr. Ortiz will greet you and bring you back to the consultation room. As we get to know each other, he'll ask if you were referred to us, what brought you in today, and go through your history and current lifestyle to get a picture of your situation.
We explain everything in advance, so there are no surprises. Dr. Ortiz will discuss the goals and process of the chiropractic exam, what he's looking for, and what a subluxation is. He'll also do muscle testing to ensure your muscles are functioning as they should.
X-rays provide us with a blueprint of your spine to work from. If warranted, Dr. Ortiz may also give laser therapy on the first visit. The more you understand who we are, what we do, and why we do it, the better results you'll enjoy. It's as simple as that. Please allow 45 minutes for this appointment.
When You Return
After we study your health history and correlate our examination findings, we'll make recommendations designed to help you get healthy and stay healthy. This is usually done on your second visit, which may be later the same day or the following day.
We'll review your care plan, discuss your diagnosis, how long it will take, and how much it will cost. Dr. Ortiz will also explain how much correction is possible with your condition. He'll help you set realistic goals.
Financial Responsibility
Our front desk staff explains the cost for the first visit. Dr. Ortiz discusses the cost of your care plan during the report of findings. We accept PPO insurance plans with out-of-network benefits only. CareCredit and major credit cards are also accepted payment methods.
---
New Patients at Ortiz Chiropractic | (951) 808-9091